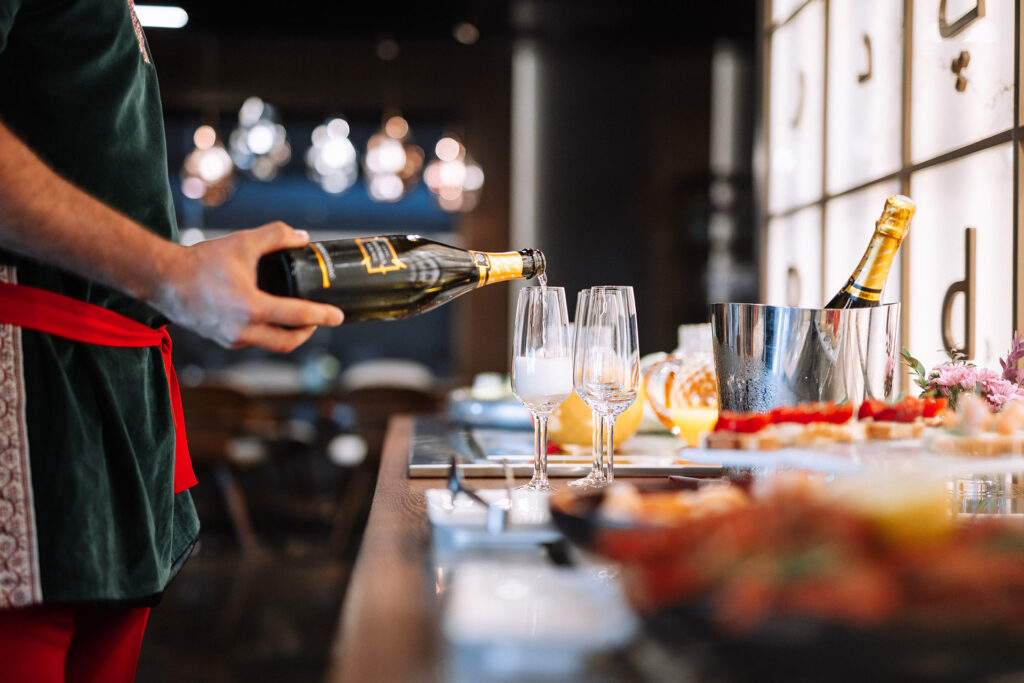 Hayrik Restaurant in Seven Visions Resort & Places, The Dvin is a restaurant of Armenian cuisine in the author's interpretation with elements of fusion and modern gastronomic trends. Our chefs skillfully mix different styles and directions of cooking to get a masterpiece and give guests a new gourmet experience.

"Hayrik" translates from Armenian as "Father". This word contains the basics, values and concept of the restaurant. We carefully preserve the heritage and pass on from generation to generation respect for culture and customs, creating our own interpretations of ancient recipes.

The interior of the restaurant gives you a sense of home care, warmth and comfort. Luxurious tables, sparkling chandeliers and dishes create conviviality, and soft light creates an intimate atmosphere. There are panels with national ornaments on the walls, the inscription of the word "Father" in many languages and barrels of Ararat cognac, each barrel you can purchase — so your personal reserve of a sunny drink will remain in the restaurant, which is pleasant to drink yourself and treat friends. In the evenings, the musicians create a soulful mood with an Armenian flavour.
The unique ergonomics of the hall allows you to arrange romantic dates, dinners with your closest ones and family feasts. For lovers of quiet evenings in the restaurant there are small VIP rooms from 6 to 12 people and 2 banquet halls, where no one will disturb your privacy.
The famous chef Rafael Kazumyan was responsible for the menu of the Hayrik restaurant. From carefully selected products of local farms, Rafael prepared traditional Armenian dishes in his own interpretation. Based on his accumulated experience and knowledge, with his inherent culinary innovation, Rafael scrupulously achieved ideal textures and combinations. So instead of the usual steamed lamb, a dry-maturing loin is served here - during cooking, excess moisture evaporates, the fibers "relax", and the meat acquires a rich taste and perfect texture.
At the Hayrik restaurant, you definitely need to try the sterlet kebab glazed with homemade apricot unagi, duck breast shallop, greased foie gras, basturma, the most delicate carpaccio of picagna, Sevan trout kufta and our signature cheese with truffle and pear and hearty arisa with duck. If you want to taste real delicacies, order baked sterlet cooked in a special chicken broth, and for a quick snack — eclair with chicken and black truffle.

Guests can watch the magic of creating gastronomic masterpieces in the restaurant's open kitchen, as well as try on a chef's hat themselves and participate in the process of cooking traditional dishes. Upon request, we conduct culinary workshops on wrapping dolma, baking lavash, and sugar gata - so you will learn the recipe and take a piece of Armenia with you.
Chef of Hayrik, Stage by Dvin, The Pool.

Ex-chef of the Moscow restaurants Pipe and Resolute, as well as La Perla, Gallardo, Adriatica, Sunny Beach, Ukemochi, Niran in Montenegro.

Le Cordon Bleu Paris graduates, Noma and L'effervescence trainee, MasterChef show winner and Tezh Khohanots show jury member.
— I am inspired by the story of Rubik Tovmasyan, who was an innovator, a legend in cooking in Armenia. For me, Hayrik is not just a project, it is my roots, an opportunity to pay tribute to my country, its heritage, become involved in the revival of Armenian cuisine and give it a slightly different shade and character, preserving traditions and cultural values. The combination of the new and the old is exactly what makes our project unique.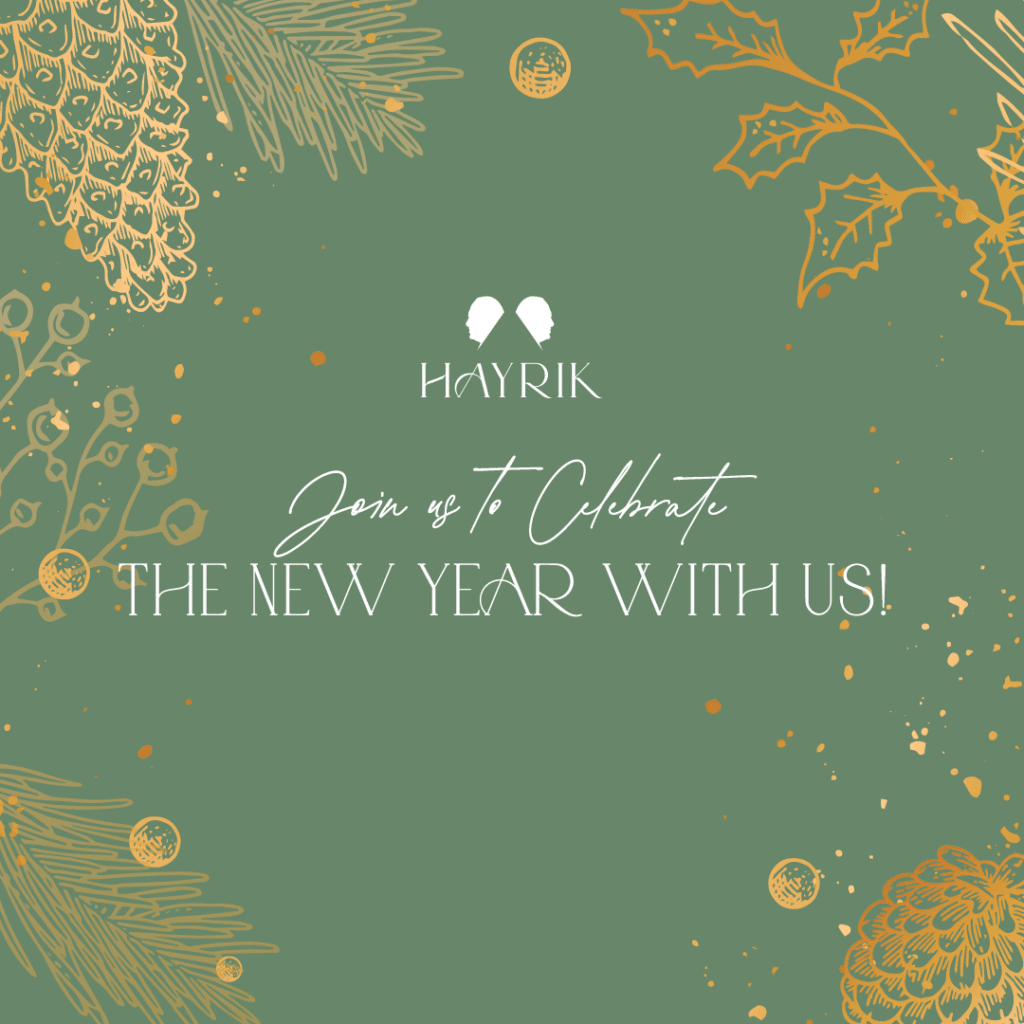 Celebrate the New Year 2024 at Hayrik Restaurant!
Get ready to celebrate the New Year at an amazing party at Hayrik Restaurant!
Come and join the fantastic New Year's celebration at Hayrik Restaurant! Join us at 10 PM on December 31st for a night of music and culinary delights.
Groove to the enchanting melodies of Kamar Band and dance into the New Year with the beats of DJ David. The host of the evening, the charismatic David Hakobyan, promises a cheerful and relaxed atmosphere.
We invite you to try our specially prepared festive menu and raise a toast to new beginnings.
Book a table for this magical evening by: